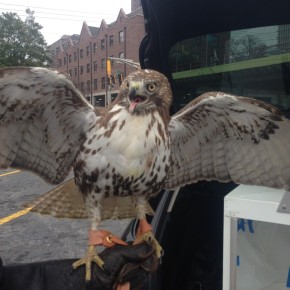 We picked up a beautiful passage hawk 12 days ago. A falconer and his wife who live south of us had trapped her and put out an alert in the falconry community to see if anyone was looking for a Red-tailed Hawk. My husband was! He had been trapping all month (with help from my brother and I) and had a few close calls, but none would stay on the trap. So, needless to say, we were all very excited, relieved and thankful to hear that she was trapped and available as it was getting late in the season.
To capture a bit of history and chronicle the manning of a hawk, I'll be keeping track of the daily progress that my husband makes with Bellatrix (Bell).
Day 1: Prepare room (drop cloths on the floor, plastic on the walls, dark curtains, comfy chair and table), giant hood (a crate for transporting hawks). We picked up the hawk, drove  home and he sat with her on his arm in the dark for 3 hours. He tried to feed her, but knew that she would not be comfortable enough to accept food yet.
Day 2-10: Wash, rinse, repeat – morning, afternoon and night. During this period, the hawk is not only reluctant to accept food, but will not bend down to eat it as they are vulnerable and unsure if you are trustworthy. Also, the prey is not alive, which could be different than what they're used to. My H offered food from a stick close to her beak until she accepted it. It took a few days, but she finally ate the mice if it was placed right next to her beak.
Day 11: Today was the day – we had a breakthrough! This morning, Bell finally leaned over to eat a tiny rodent from my husband's glove. This was a huge step in her progress and the result of 10 days of extreme patience to earn her trust.